November 27, 2018
Andaman: 'Leave US missionary's body and indigenous group alone,' Survival International urges India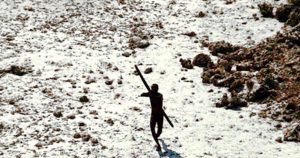 Source- scroll.in
Survival International, a movement for indigenous groups, on Monday urged the Indian government to terminate efforts to recover an American's man's body from the isolated North Sentinel island. Andaman and Nicobar Islands Police said they had conducted their second expedition to retrieve John Allen Chau's body from the island on November 24 but to no avail.
Chau was killed by the indigenous Sentinelese group last week after he ventured onto the restricted island. It is forbidden by law for strangers to enter the North Sentinel Island. The police have arrested several fishermen who helped Chau reach the island.
Stephen Corry, director of Survival International, said any attempt to recover the body is dangerous for the Indian personnel and for the Sentinelese, who risk "being wiped out if any outside diseases are introduced".
Survival International also called on the India government to revoke the relaxing of restrictions that were imposed to protect the island and urged the government to enforce the exclusion zone around the island. "The risk of a deadly epidemic of flu, measles or other outside disease is very real, and increases with every such contact," Corry's statement said. "Such efforts in similar cases in the past have ended with the Sentinelese attempting to defend their island by force."
The global organisation said, "Chau's body should be left alone, as should the Sentinelese."
A group of anthropologists, researchers, authors and editors have issued a joint statement urging the Indian government and the Andaman and Nicobar administration to call off efforts to retrieve Chau's body. "The media has reported nervous stand-offs between the teams seeking to land on North Sentinel to get the body and members of the Sentinelese community who clearly find these incursions unwelcome," the statement said. "Continuing with the efforts could well lead to further violence and completely unwarranted loss of life."
The statement said that the rights and desires of the Sentinelese need to be respected. The statement was signed by author Pankaj Sekhsaria, anthropologists Vishvajit Pandya and Sita Venkateshwar, researchers Manish Chandi and Madhusree Mukherjee and editors Zubair Ahmed and Denis Giles.
The Sentinelese, whose population was around 40 in 2011, have been known to resist any contact with the outside world. Chau was attacked with bows and arrows after he landed on the island on November 16, the arrested fishermen told the police. They claimed to have seen the island's indigenous people drag him to the beach before they lost sight of him.
Andaman and Nicobar Islands Director General of Police Dependra Pathak earlier said a team sent to retrieve Chau's body had withdrawn from the island's vicinity after seeing members of the indigenous group with bows and arrows.