July 28, 2018
Home
News
PepsiCo India secures Delhi HC order to wipe out 'Kurkure has plastic' posts from social media platforms
PepsiCo India secures Delhi HC order to wipe out 'Kurkure has plastic' posts from social media platforms
Source – firstpost.com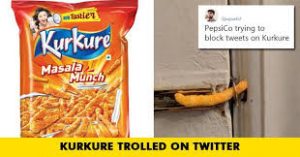 PepsiCo India Holdings Private Ltd has secured an interim order from the Delhi High Court (HC) to delete hundreds of posts on Facebook, Twitter, Instagram and YouTube, that claim its snack brand Kurkure's corn puffs product contains plastic, according to media reports.
In the wake of malicious rumours that the popular snack food contains plastic, the company has secured a John Doe order, a "cease and desist" decree passed by a court of law against anonymous entity/entities, the Business Standard reported.
According to MediaNama, there are 3,412 Facebook links, 20,244 Facebook posts, 242 YouTube videos, six Instagram links, and 562 tweets on this topic that have now been ordered to be removed.
"Kurkure is an extremely loved brand and consumed by families across India. However, fake news suggesting that Kurkure has plastic in it has adversely effected brand's reputation. Due to such fake and defamatory content circulating on the social media, PepsiCo India was constrained to move the Hon'ble Delhi High Court," a PepsiCo spokesperson was quoted as saying in a statement by Mint.
Following the latest development, Twitterati took to the micro-blogging site to poke fun at the company.
Last September,  Vani Gupta, Marketing Director – Indian Snacks, Foods, PepsiCo India said the company was deploying countermeasures to assure women that Kurkure is safe for them, as it was rumoured that the corn puffs product was causing abortions.
According to her, it is better to talk to the consumer about safety rather than taking rumour mongers to court.
Kurkure now has 40 variants and is also exported to several countries, after its first variant hit the market in 1999.
About Author
wakilsahab