November 26, 2018
26/11 attacks 10th anniversary: Mumbai is safe, police can handle any terror threat, says Commissioner Subodh Kumar Jaiswal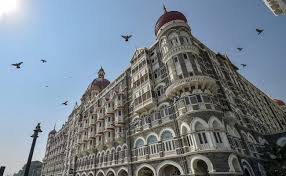 Source- firstpost.com
10 years after the 26/11 terror attack, Mumbai is safe and police are competent to handle any terror threat, says Police Commissioner Subodh Kumar Jaiswal.
In one of the most horrific terrorist attacks in the country's history, 166 people were killed and over 300 injured as 10 heavily-armed terrorists from Pakistan created mayhem in Mumbai on 26 November 2008.
"We have come a long way in the last 10 years," Jaiswal told PTI in an interview on the eve of the terror attack's 10th anniversary.
"I can assure Mumbaikars that the city is safe and police are capable of protecting you from any eventuality," he said.
"We have a strong and trained police force having latest equipment, weapons, strategy tactics and are always ready to deal with all the challenges," he said.
Jaiswal, who served in the Research and Analysis Wing (RAW), said Mumbai Police has an excellent coordination with all state and central agencies dealing with the city security.
"The city has a network of around 5,000 CCTVs which help monitor any suspicious activity," he said.
Another top police official said the presence of police personnel armed with modern weapons at sensitive locations, a standard operating procedure to respond to any distress and enhanced public awareness are key to Mumbai's security.
"The role of police was redefined after the 26/11 attack and there was the major overhaul of the city security system," said Deven Bharti, Joint Commissioner of Police (Law and Order).
"We have created Quick Response Teams, which will be the first to respond in any situation. There is a dedicated commando team 'Force One', with capabilities to handle any terror threat and also the coastal police to secure coastal area," he said.
After the 26/11 attacks, the state government has made efforts to secure the city, Bharti said. "We have a strong CCTV network in the city and each CCTV is connected with the main police control room through an integrated system," he said.
"In the last 10 years, we have upgraded in terms of infrastructure, logistics and trained manpower," he said. Police have procured modern security equipment, gadgets,
bullet-proof jackets and latest weapons," he said.
"Anti Terror Cells (ATC) have been set up in every police station to keep a tab on suspected terror movement," he said.
"The Anti Terrorism Squad (ATS) of Maharashtra Police also keeps a tab on terror-related activities across the state," he said.
There have been cases where youth were radicalised by terror outfit recruiters through internet or social networking sites, he said. The ATS is working to bring back such
"misguided" youth into the mainstream, he added.
"Since 2017, it has deradicalised 120 such men and women," he said.